Check out our new audio content!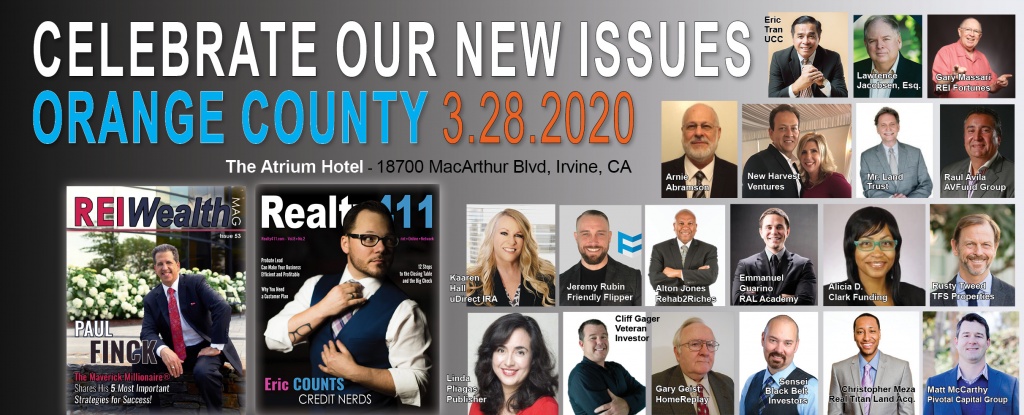 Fantastic networking and eye-opening knowledge are focal points of Realty411's spring real estate investor expos. Being held in both Southern and Northern California, Realty411's expos will reach hundreds of sophisticated investors, individuals who are ready to learn about the changing laws and market landscape in California, and beyond.
These one-day, back-to-back events will be hosted in market "hot spots" of the Golden State, including: Irvine, California and Silicon Valley.
First, Realty411's regular readers, devoted fans, plus newcomers to our network, will unite on MARCH 28th at The Atrium Hotel, conveniently located in front of John Wayne Airport. The address is: 18700 MacArthur Blvd, Irvine, California.
The "Who's Who" of California real estate is scheduled to appear at this impactful event in Orange County. Some of our esteemed local sponsors and educators include: Kaaren Hall, Sensei Gilliland, Gary Massari, Christopher Meza, Rusty Tweed, Jeremy Rubin, Alton Jones, Cliff Gager, Jacob Lawrence, Esq., Raul Avila, Erin Tran, Alicia D. Clark, and more.
Our special speakers from out of state, include: Randy Hughes, "Mr. Land Trust", Emmanuel Guarino, Gary Geist, Gabriel Hicks, and more.
Realty411's Orange County Real Estate Investor Expo begins at 9 am on Saturday morning and continues all day. The expo features two different and simultaneous educational sessions for guests to enjoy maximum content.
Some of the important topics to be discussed, include: Asset Protection, Investing Tax-Free with an IRA, Out- of-State Investing, Residential Assisted Living, 1031 Exchanges, Private Lending and Real Estate Finance, Wholesaling, Flipping in California, Commercial Real Estate, Business Lines of Credit, and much more.
Numerous networking sessions will take place throughout the day, so be sure to bring plenty of business cards. This is a great opportunity to make new friends and engage with important individuals from the real estate investment community. All are welcome to attend this special day.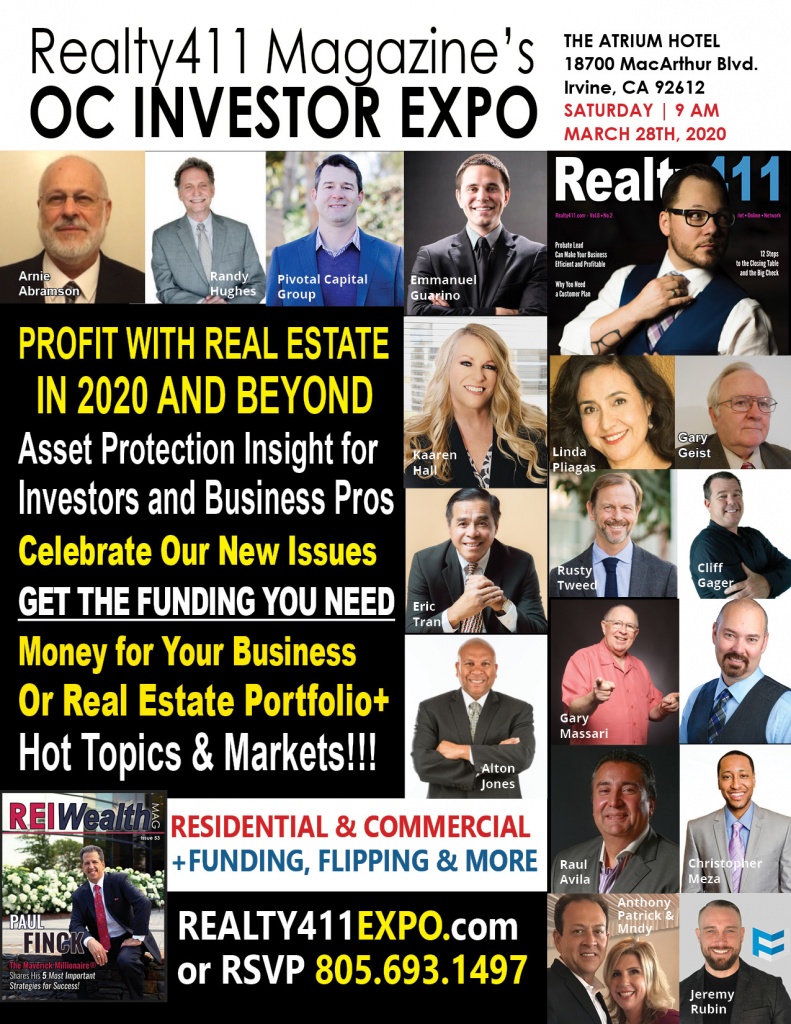 ---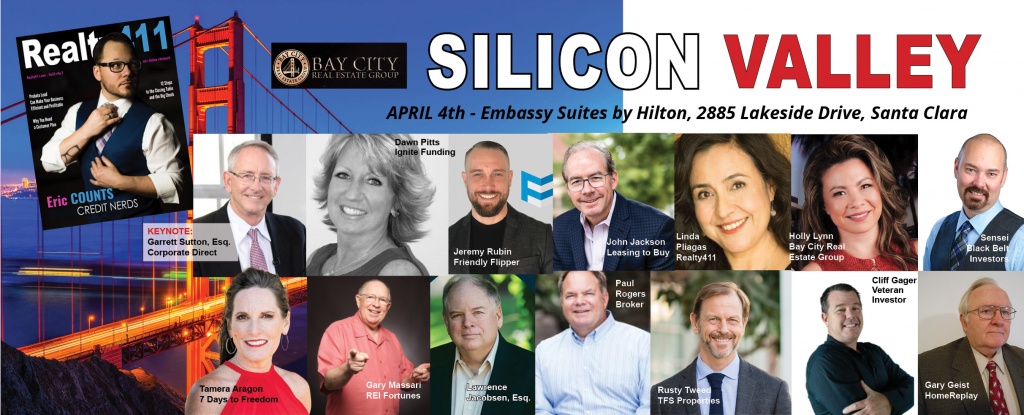 Next is Realty411's Silicon Valley Real Estate Investor Expo being held on APRIL 4th at the Embassy Suites by Hilton Santa Clara, Silicon Valley. The hotel is located at: 2885 Lakeside Dr, Santa Clara.
Being held in America's technology center and the mecca of venture capital, Realty411's Silicon Valley Real Estate Investor Expo always attracts active, sophisticated investors from the community, as well as out of state.
Some of the amazing speakers scheduled to share their knowledge, include: Garrett Sutton, Esq., Holly Lynn, Sensei Gilliland, Gary Massari, John Jackson, Tamera Aargon, Rusty Tweed, Paul Rogers, Cliff Gager, Jacob Lawrence, Esq., Gabriel Hicks, Jeremy Rubin, and Gary Geist.
Topics include: Asset Protection, Out-of-State Investing, Lease Options, 1031 Exchanges, Wholesaling, Flipping in California, Commercial Real Estate, Private Finance, AirBnB, ADUs, and much, much more.
Incredible connections await!
Realty411 provides an opportunity for guests to get up-close and personal with top-level speakers; educators who have been a part of the real estate investment industry for many years. The REI experts are here!
Our expo in Silicon Valley is once again dedicated to the memory of Geraldine Barry, one of the most influential women in real estate investing in the Bay Area. Geraldine was a frequent speaker at Realty411 expos throughout California, she passed away last year.
Geraldine is credited with being the original founder and developer of real estate investor meetings and expos in the Bay Area through her San Jose Real Estate Investor Association.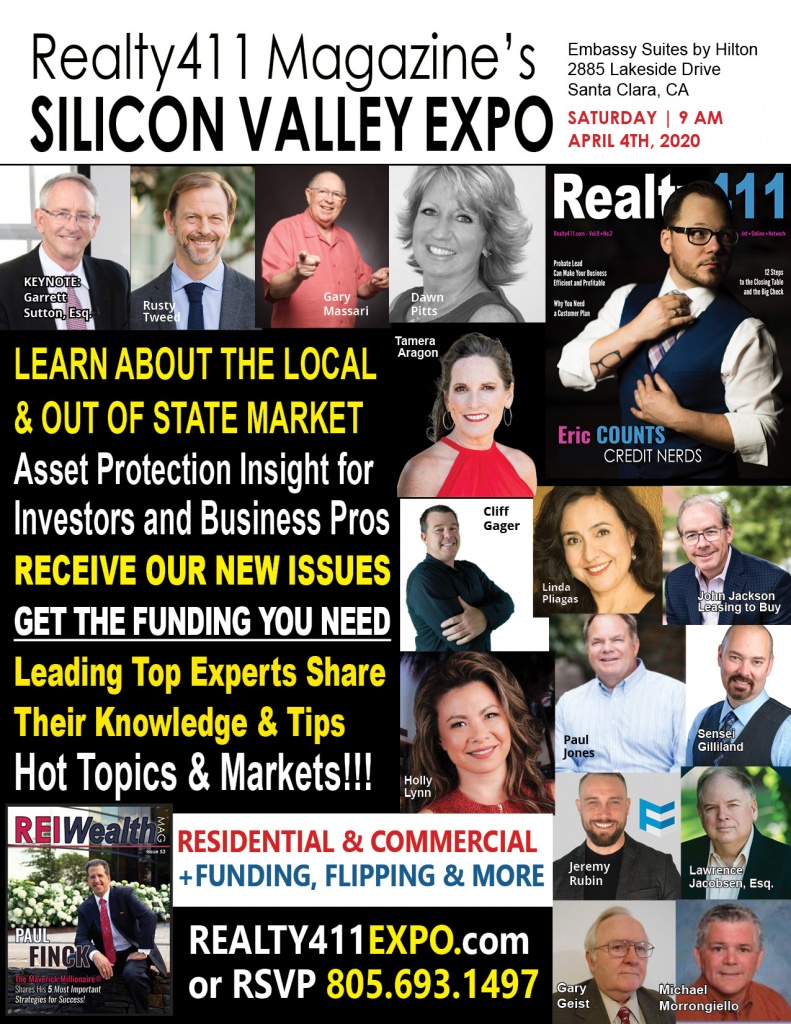 Realty411 has been hosting real estate investor events in California since 2007, longer than any other REI publication. The magazine's expos have propelled many people to become passionate about real estate, either by becoming an investor or entering into a realty-related career.
"In the last month, I've received two calls from former expo guests who took the time to connect personally to thank me for igniting their passion for real estate. Both remembered the exact expo they attended — one seven years ago in Las Vegas; the other nine years ago in Napa Valley. They both reminisced with me the exact moment they connected. Both are now full-time realty professionals as private lenders and investors.

Linda Pliagas, founder Realty411
Realty411 is ready to positively impact more lives this monumental year. This is the best time to take action. It's time to invest effort to learn about real estate, expand your knowledge, or dive into a new realty career.
Don't be someone who sits on the sidelines in 2020, make it happen. Friends, both old and new, be sure to RSVP today.
---
Learn about the PIG Formula – The Passive Income Generator with Hector Padilla. Hector has spoken at numerous events across the country.