Check out our new audio content!
Join Us on July 25th and 26th for Realty411's 3rd VIRTUAL Expo

Special Editorial by The Realty411 Staff
---
Despite COVID-19 destroying countless businesses and lives, we are MOVING FORWARD and growing. In fact, our network is interacting in a whole new way, all the while expanding in knowledge, strength, and connections.
Thus far, nearly 1,100 investors have registered for our past two online conferences, where we've hosted some of the Top Leaders of the REI Industry.
Our next Realty411 Virtual Weekend Investor Expo is once again a MUST-ATTEND event that you simply can't afford to miss. The new topics and subject matters covered at this event are extremely important, including:
Long-distance rental ownership, non-stop lead generation, virtual rehabbing and sales, private finance, finding investment partners, top rental and rehab markets, IRA strategies, commercial and residential knowledge, real estate Reality TV, commercial real estate, maximum mindset during the pandemic, and SO MUCH MORE!
This amazing and COMPLIMENTARY weekend expo is specifically designed to inform our network about the latest developments and help them make important decisions about their financial goals and investment portfolios.
We have an incredible and exclusive line-up of proven experts who have been engaged in the real estate business for many years.
These "Rock Stars of Real Estate Investing" are donating their precious time just FOR YOU. They want to help all of our loyal readers learn time-tested tips and techniques for ultimate success in business and life.
Business and markets are rapidly changing during these uncertain times with COVID-19 still affecting our way of life. Realty411 wants to make sure YOU keep up to date and stay motivated. As leaders in the industry, we all want to do our part.
Here are some fantastic educators who are joining us:
Matt Bowles, Maverick Investor Group Ross Hamilton, Connected Investors Flip and Dani Robison, Freedom Real Estate Group Rusty Tweed, TFS Properties Hannah Kesler, The Money Multiplier Kaaren Hall, uDirect IRA Services Travis Abbott, Invest 1 Properties Dave Grimm, End 2 End Results Jason Jones, Expert Wealth Builder Gabriel Hink, The Hotel Veteran Hugh Zaresky, eFamily Ohana Linda Pliagas, Realty411 & REI Wealth Paul Finck, The Maverick Millionaire Jeremy Rubin, The Friendly Flipper Fantastic tips and strategies
PLUS: A surprise guest will soon be announced.
As the Original Realty and REI Magazines, in business for nearly 13 years with a mission to help real estate investors, we rely on our vast national and global network to refer others to our publications, webinars, virtual and online expos, newsletters, videos, podcasts and more.
Please help us spread knowledge to others, kindly invite at least five colleagues, friends or family members in your sphere of influence, thank you. We are excited about connecting with you virtually soon.
---
Join Us for An In-Person Event with Social Distancing Protocols in Place.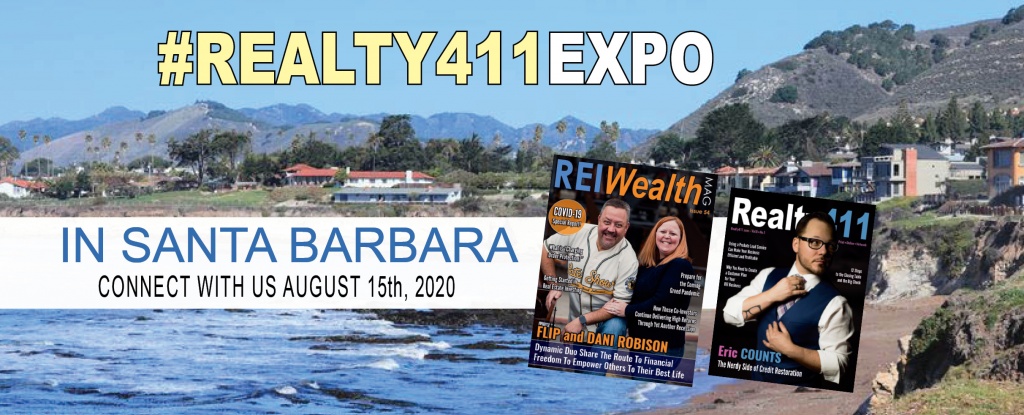 NOW IN PERSON WITH SOCIAL DISTANCING IN PLACE –
Join our team for our first in-person event with Social Distancing Protocols in place. Enjoy a wonderful weekend in Santa Barbara and learn with proven investment experts. Learn more, just CLICK HERE.