Turnkey rentals are great. They provide automatic passive income and all the perks of direct investment in property.
But is that the best you can do in returns and getting ahead?
Real estate is the investment for intelligent investors today. But where do you find the time and great returns without sacrificing everything else you love doing?
The Status Quo & Investment Strategies that Fit
There appears to be nothing safer to invest in than real estate today. The returns are pretty attractive too. But when sophisticated investors and busy professionals look at how most others are investing, it can start to appear challenging.
If you are a doctor, lawyer, professor, or even successful artist – you don't want to ditch a great career you are passionate about to start from scratch learning about being a landlord.
Now hands-on fixing and flipping houses and managing your own rental properties can be great for those who don't really love their jobs, or need a new source of income. But it's a different story if you are already putting in 40 hours a week in something you like. Or if you are already financially independent and don't want to cramp your free lifestyle.
If this is you, your friends might be invested in REITs, real estate company stocks or even turnkey rental property programs. These can be great ways to diversify a portfolio. But stocks and REITs are really too volatile.
Turnkey rentals are great. They provide automatic passive income and all the perks of direct investment in property. But is that the best you can do in returns and getting ahead?
You Can't Afford Not to Demand More
The problem is that the vast majority of individuals and couples are way behind on retirement savings and wealth building. The average 401(k) balance is only around $100,000. Recent data from the Federal Reserve shows that retirement savings and investment balances drop to almost half by the time individuals are in retirement.
That means retirees are burning through half of their retirement funds within a year or two of exiting the workforce. Data 360 reports the average life expectancy in the United States is now just shy of 80 years old, and rising.
The bottom line is that whether you have double the average savings or even eight times your salary saved today – it just isn't going to be enough. Not by a long shot. So how do you get ahead?
The Returns of Flipping Houses with the Ease of Passive Income
Remote Rehabs is re-opening its turnkey fix and flip investment program in Phoenix, Ariz. After being one of the first to kick-start the U.S. housing recovery, Phoenix is now set to lead in the second stage of growth with new jobs and rising property values.
Check out what's happening in Phoenix, Arizona at: www.RemoteRehabs.com
The Remote Rehabs™ program offers a 100% hands-free, high-return way, to generate passive income in America's hottest property markets. This service handles everything from sourcing properties, to acquisition, rehabbing and reselling for you.
It's ideal for those investors who lack time, lack experience, and need to earn more than what they're currently earning. It brings together all the best of the ease of passive income investing with high returns and faster profits of flipping houses. It's the aggressive way to generate cash, faster.
So how do the returns stack up?
Imagine: Instead of investing in buying a single rental property that throws off $15,000 a year in positive cashflow you used Remote Rehabs to flip houses for you. It conservatively takes an average of 90 days to fix and flip a house.
So if you bought and sold just four houses per year and made $15,000 each time, you'd be way ahead. You'd be pocketing $60,000 per year. While your friends are just getting $15,000 per year on buy-and- hold properties.
What would an extra $60,000 per year do for your lifestyle or retirement savings?
The Real Estate Cash Machine
This system effectively gives real estate investors an automatic cash machine. Real estate education is good, rentals are good, and hands on rehabbing is rewarding. But if you want to diversify, really kick finances into high gear, get ahead, and don't want to have to sweat or take the time out, check out Remote Rehabs.
Then, once you have this real estate cash machine working for you, you can roll over some of that money to buy-and-hold properties for long-term wealth building, or any other investment you are willing to take a shot at.
Article by Sensei: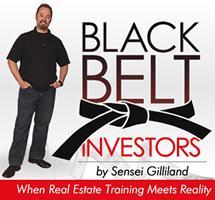 Founder of Black Belt Investors, Sensei Gilliland has been featured on the cover of Real Estate Wealth Magazine, hosts 'The West's Top Ranked Real Estate Investors' Club' – 12 ROUNDS, and has engineered several highly popular trademarked real estate investment systems. Sensei is the go-to source for serious investors and entrepreneurs seeking extremely effective, no holds barred training, investment properties and funding. Claim your copy of his powerful Cash and Wealth by visiting: www.BlackBeltInvestors.com