Check out our new audio content!
An Amazing Weekend of Learning is in Store for Realty411 Expo guests.
Realty411, the longest-running national real estate investor magazine, invites guests to register for their brand-new Virtual Weekend Investor Expo to be held this Saturday, October 17th and Sunday, October 18th.
Beginning at 9 am PDT (Pacific Daylight Time), Realty411 will host a LIVE and interactive expo and, once again, top-industry leaders will spill their secrets (and shortcuts) for ultimate success as a real estate investor.
Typically, virtual expos of this caliber, and with such well-known educators, cost hundreds of dollars to attend; however, thanks to the continued support of our loyal sponsors, this two-day ONLINE expo, filled with valuable resources, is completely complimentary.
TO RSVP, CLICK HERE:
https://us02web.zoom.us/webinar/register/WN_K765PpfmR4-a3HrvzTbqog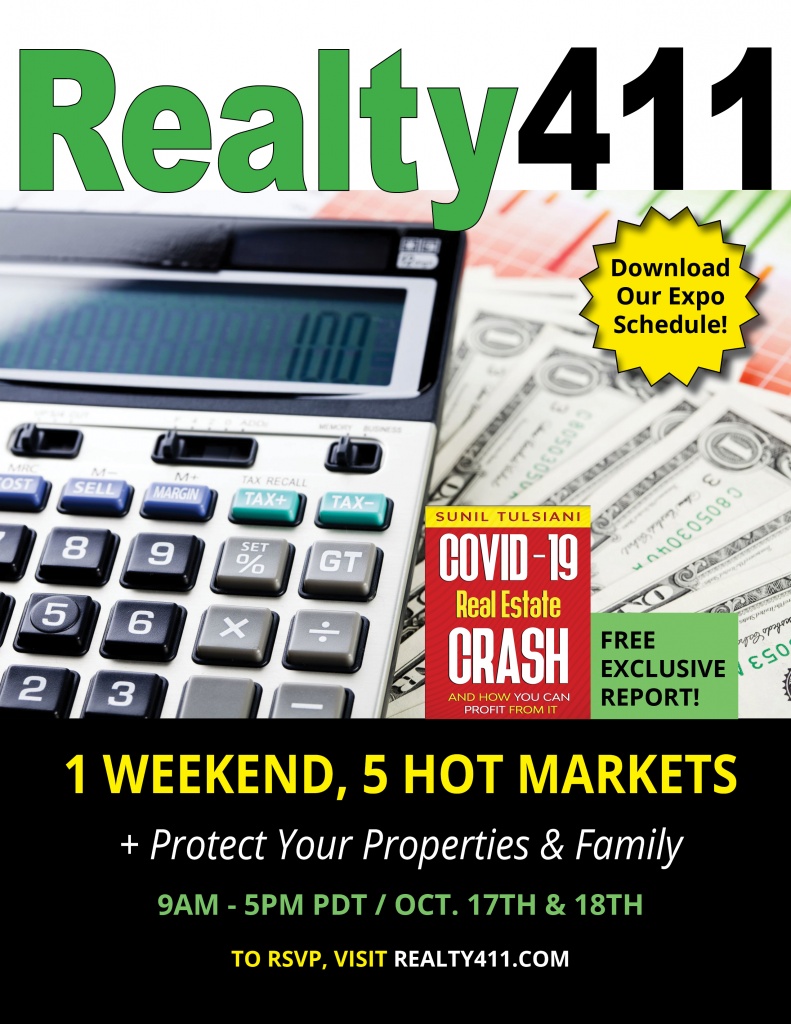 Important information covered at our October Virtual Expo, includes:
* Investing Safely Out of State — Learn how to grow a real estate portfolio in areas that are outside of your zip code.
* Insure for Portfolio Safety — Discover the important role insurance plays on properly protecting your real estate assets.
* Get the Edge with Technology — Learn how software can enhance your opportunities to locate and control the best deals available.
* Financing Options for Investors During COVID-19 — Lending has changed during the pandemic, many companies are no longer even operating. Meet finance specialists ready and able to fund deals.
* Real-Time Feedback — Get LIVE tips, plus Chat with Active Flippers
* Acquire "Insider Secrets" from professional rehabbers across the country — Our experts are coming in LIVE from many TOP markets!
* Joining Us Will be TWO Prestigious Attorneys –– This is the place to be to acquire expert information from two sought-after legal professionals ready to assist our guests with their questions.
* Hot Markets from Coast to Coast — Discover where some Realty411 readers are purchasing properties. Numerous key cities will be spotlighted. Gain insight on potential investor-friendly areas.
We have top professionals and quality educators joining us, so be sure to join us for our LIVE VIRTUAL EXPO in real-time this Saturday and Sunday, Oct. 17th and 18th, starting at 9 am PST.
Be sure to download our expo schedule here: https://joom.ag/2IvC
Or simply view our agenda below. For information, call: 805.693.1497
---
THIS POST WILL BE UPDATED AS NEEDED – EXPO AGENDA SUBJECT TO CHANGE, PLEASE CHECK BACK HERE FOR CONTINUED INFORMATION.